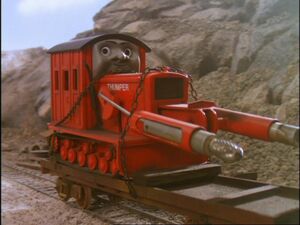 Portrayed by:
Appearence
Edit
Thumper is a quarry machine with two arms and catepillar treads. He is designed for loosening rocks. Thumper is not based upon any known quarry machine - at any rate, a machine of his type would be extremely hazardous to those around - such as the lack of windows at the front of the cab, making the operator unable to see. Thumper is painted orange with his name painted on his side of his bonnet in whit .
Personality
Edit
Thumper is a "cool man" and thinks that no job is too big for him, something that P. T. Boomer takes advantage of.
Abilities
Edit
.
.
.
Relationships
Edit
.
Ad blocker interference detected!
Wikia is a free-to-use site that makes money from advertising. We have a modified experience for viewers using ad blockers

Wikia is not accessible if you've made further modifications. Remove the custom ad blocker rule(s) and the page will load as expected.