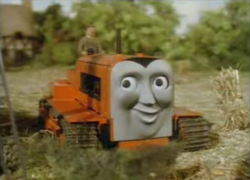 Portrayed by:
Appearence
Edit
Terence is based on a 1934 vintage Caterpillar Model Seventy - the largest, and last, design of petrol-powered tractors in Caterpillar's range. Terence is painted orange with grey caterpillars and a small black exhaust pipe.
Personality
Edit
Terence is a helpful tractor. He pulls vehicles out of the snow when they are stuck. He likes his caterpillar wheels which help him travel on roads and fields.
Abilities
Edit
.
.
.
Relationships
Edit
.
Ad blocker interference detected!
Wikia is a free-to-use site that makes money from advertising. We have a modified experience for viewers using ad blockers

Wikia is not accessible if you've made further modifications. Remove the custom ad blocker rule(s) and the page will load as expected.