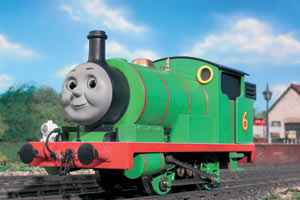 Portrayed by:
Appearence
Edit
Percy is primarily based on an Avonside 0-4-0ST with the body of a GWR 1340 Trojan, the bunker of a GWR 1361, Hunslet underframes and valve gear, a smokebox protruding from his saddletank, external cylinders and motion and sandboxes underneath the tanks on the footplate. Percy is painted NWR green with NWR red-and-yellow lining and a "6" painted on his bunker sides in yellow.
Personality
Edit
Percy is known to be a little dumb: he would say "dingy-fried" where anyone else would say "dignified". He also is shown to make obvious mistakes. Percy is also incredibly accident-prone, and holds the dubious record of the most accidents on Sodor. Percy is reasonably experienced, but can still occasionally be a little naive and overconfident. In that sense, he is the perfect foil for Thomas – who can be just as headstrong. It is hinted that Percy may have a crush on Mavis the Nice Diesel.
Abilities
Edit
.
.
.
Relationships
Edit
.
Ad blocker interference detected!
Wikia is a free-to-use site that makes money from advertising. We have a modified experience for viewers using ad blockers

Wikia is not accessible if you've made further modifications. Remove the custom ad blocker rule(s) and the page will load as expected.