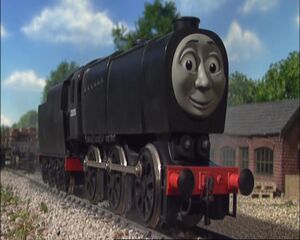 Portrayed by:
Appearence
Edit
In the television series; Neville is based on the SR Bulleid Q1 locomotive, which were often referred to as "ugly ducklings".
In the trilogy; Neville is simply called a diesel-steam engine hybrid.
Neville is painted in the British Railway's plain unlined black livery. He has the number 33010.
Personality
Edit
Neville is enthusiastic, friendly, and always ready to help out other engines. Neville never holds a grudge and can always be found with a smile on his face.
Abilities
Edit
.
.
.
Relationships
Edit
.
Ad blocker interference detected!
Wikia is a free-to-use site that makes money from advertising. We have a modified experience for viewers using ad blockers

Wikia is not accessible if you've made further modifications. Remove the custom ad blocker rule(s) and the page will load as expected.