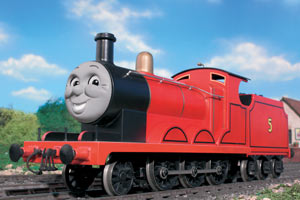 Portrayed by:
Appearence
Edit
Sodor "historian" Martin Clutterbuck has pointed out that James strongly resembles an G&SWR "Austrian Goods" 2-6-0 from the Glasgow and South Western Railway, but with the addition of a Belpaire firebox. At any rate, the Reverend W. Awdry used an engine of this class to represent James on his model railway. It is possible that he rejected this prototype for James' official "biography" on the grounds that an English locomotive would be more likely to end up on Sodor. James has a red coat with yellow stripes and black lining. James has the number "5" painted in bright yellow with a blue border on his tender sides.
Personality
Edit
James is very proud of his paintwork. He hates pulling trucks, and believes that he should only pull coaches. He thinks himself superior to the others, and can be shallow, boastful and vain, particularly to those who appear old-fashioned, weak, slow or dirty. However, on a number of occasions he has found himself in need of help, ironicly, from those he has insulted, and is, in the end, apologetic.
Abilities
Edit
.
.
.
Relationships
Edit
.
Ad blocker interference detected!
Wikia is a free-to-use site that makes money from advertising. We have a modified experience for viewers using ad blockers

Wikia is not accessible if you've made further modifications. Remove the custom ad blocker rule(s) and the page will load as expected.