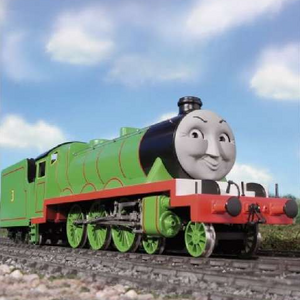 Portrayed by:
Appearence
Edit
Henry was originally based on a LNER Stanier Class B10 4-6-0. When Henry suffered an accident and severe damage onewinter, the opportunity was taken to to send him to Crewe, where he was rebuilt into an LMS Stanier 5MT "Black 5" 4-6-0 with a Fowler tender. Henry is currently painted NWR green with NWR red-and-yellow lining and the number "3" painted on his tender sides in yellow.
Personality
Edit
Henry is generally well-behaved, but he is occasionally arrogant and vain. Henry is at heart a hard worker, but his frequent bouts of illness hinder his work. Henry is also a nature-lover.
Abilities
Edit
.
.
.
Relationships
Edit
.
Ad blocker interference detected!
Wikia is a free-to-use site that makes money from advertising. We have a modified experience for viewers using ad blockers

Wikia is not accessible if you've made further modifications. Remove the custom ad blocker rule(s) and the page will load as expected.